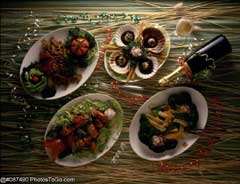 People these days, live on busy schedules and overtime. Fast food restaurants and other chain restaurants have become the way of life for some married couples. It's not rare to find that a woman my age has never cooked in her entire life. One girl I used to work with years ago, was a total disaster when it came to cooking. I don't think she even knew how to boil water.
I do cook, but I'm no gourmet chef. In order to be one, I strongly feel you must like a wide variety of food. As weird as it may sound, I never liked cheese and I have an allergy to some seafood. So, I could never be a food critic, as well as a proper chef. Seafood isn't in everything, unless of course you visit a certain Chinese restaurant that has shrimp in everything. But cheese is the main ingredient in a lot of prepared dishes.
It's really annoying when I'm in a restaurant and order the entree without cheese. The food server almost always comes to the conclusion that I am lactose intollerant. Nothing could be more gross and embarrassing than being out on a date or out with friends, and having your gastro intestinal tolerance level being the top subject at the dinner table. Other people cannot comprehend anybody not liking cheese. I guess it would be like someone disliking ice cream or chocolate. Some cheeses I do like, as in cream cheese in cheesecake, but a lot of other cheeses just seem like sour milk to me.
I never really cared about being on a tight budget when it came to food shopping. If I wanted it, I got it. End of story. I don't penny pinch or use coupons either. I cook with certain brands I'm familiar with, and taste good. I don't like trying mystery brand crap in the black and white, unheard of label, that's fifty cents less. No thanks, I'd rather pay the extra fifty cents and get what I want.
*Here are some neat copycat recipes I found online.
_____________________________________________
Outback Bloomin' Onion
Ingredients:
Batter
1/3 cup cornstarch
1 1/2 cups flour
2 teaspoons garlic, minced
2 teaspoons paprika
1 teaspoon salt
1 teaspoon pepper
24 ounces beer
4 Vidalia onions
Seasoned flour
2 cups flour
4 teaspoons paprika
2 teaspoons garlic powder
1/2 teaspoon pepper
1/4 teaspoon cayenne
Creamy Chili sauce
1 pint mayonnaise
1 pint sour cream
1/2 cup tomato chili sauce
1/2 teaspoon cayenne
Outback Dipping Sauce
1/2 cup mayonnaise
2 teaspoons ketchup
2 teaspoons creamed horseradish
1/4 teaspoon paprika
1/4 teaspoon salt
1/8 teaspoon dried oregano
1 dash black pepper
1 dash cayenne

Directions
Seasoned flour
Combine flour, paprika, garlic powder, pepper and cayenne. Mix well.
Creamy chili sauce
Combine mayo, sour cream, chili sauce and cayenne-mix well.
Dipping sauce
Blend everything together well and let sit for 2 hours-refrigerated- or overnight.
Batter
Mix cornstarch, flour, and seasonings until well blended. Add beer and mix well.
Cut approximately 3/4 inch off top of onion and peel. Cut onion into 12-16 vertical wedges. Do NOT cut completely through the end. Remove 1 inch of petals from center. Dip in seasoned flour and gently shake to remove excess. Separate petals and coat thoroughly with batter.
Gently place in a fryer basket and deep fry at 375-400 degrees for 1-1/2 minutes. Turn over and fry 1-1/2 minutes more or until golden brown.
Drain on paper towels. Place onion upright in a shallow bowl and remove center core with a circular cutter or apple corer. Serve hot with chili sauce and dipping sauce.

Time: 24 minutes (20 min prep, 4 min cooking)
Makes: 8 servings
____________________________________________
Mussels Marinara


Serves : 4
Prep. Time : 0:20

1 cup dry white wine
1 cup canned diced tomatoes with juice
2 Tbls. chopped fresh garlic
2 Tbls. chopped fresh basil
2 Tbls. chopped fresh parsley
1 tsp. salt
1/4 tsp. white pepper
2 doz. blue mussels - scrubbed, rinsed
1 Tbls. cornstarch
cooked pasta of your choice


-In a large saucepan, bring wine, tomatoes, garlic, basil, parsley, salt, and pepper to a boil.
-Add mussels to pan, cover, and simmer for 6-8 minutes, until all mussels have opened.
-Stir in cornstarch and simmer until thickened, stirring constantly.
-Serve over warm pasta.

_________________________________________________

Sweet Spanish Corn Cake-Chi Chi's

Serves : 8
Prep. Time : 1:20

1/2 cup butter OR margarine - softened
1/3 cup cornmeal OR masa harina (see Notes below)
1/4 cup water
10 oz. bag frozen corn - thawed, coarsely chopped
1/3 cup granulated sugar
3 Tbls. yellow cornmeal
2 Tbls. heavy whipping cream
1/4 tsp. baking powder
1/4 tsp. salt
sliced chili peppers - for garnish
chopped fresh parsley - for garnish


-Beat butter with an electric mixer until fluffy.
-Gradually beat in cornmeal or masa harina, then water, then corn.
-In a separate bowl, combine sugar, cornmeal, cream, baking powder, and salt; stir into corn mixture.
-Spread in a greased 8" X 8" X 2" baking pan and cover with aluminum foil.
-Place batter-filled pan in a larger baking pan and pour boiling water half way up the side of the smaller pan.
-Bake in a 350 degree oven for 50 minutes, or until set in center.
-Remove smaller pan from water, uncover, and let stand 15 minutes.
-Sprinkle with chilies and parsley, if desired.

Notes : Masa harina is a type of corn flour available in specialty food stores and many supermarkets.

________________________________________________

Fettuccini with Chicken and Sun-Dried Tomatoes
The Cheesecake Factory's


Serves : 2
Prep. Time : 0:30

1/4 cup sun-dried tomatoes
1/2 cup boiling water
2 boned, skinned chicken breast halves
salt and pepper - to taste
2 Tbls. olive oil - divided
1 med. onion - chopped
2 cups sliced mushrooms
1 clove garlic - crushed
1 Tbls. chopped fresh basil
1 cup sour cream
8 oz. fettuccini - prepared as directed
1 Tbls. minced fresh basil


-Rehydrate tomatoes in boiling water for 10 minutes; drain, reserving liquid; set aside.
-Season chicken with salt and pepper on both sides.
-Brown chicken in 1 Tbls. oil for 6 minutes on each side; set aside.
-Saute onions in oil until tender.
-Add mushrooms, garlic, basil, and tomatoes and saute for an additional 3 minutes.
-Stir in sour cream, then slowly stir in enough reserved tomato water until desired consistency is reached.
-Stir in cooked fettuccini.
-Serve chicken breast over a bed of pasta and garnish with basil.