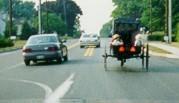 A small town may be the life for John Mellencamp, but I get a severe case of claustrophobia, when I go back to PA to visit for more than two weeks. I do go to visit, because I have my sister, Cindy and her family there who I see. BTW, these former WWF Wrestlers in my top pic here "ain't no" close relation to me, but I reckon they could be distant cousins:).
Southern Chester County PA, is where I was born and raised. My original hometown is Oxford, PA. It's thirty miles east of Lancaster (Amish Country) and close to sixty miles south of Philadelphia. It's very close to Maryland and Delaware. My former hometown is quite small. The population is close to 4000, now. There were about 3000 or less when I was there.
It seemed that almost everybody I knew in Oxford, knew somebody or had a relative from Mountain City, Tennessee, (my ancestry is German-Irish and my grand parents were from PA, VA, and MD, not TN). My sister told me that many other families moved from Mountain City, to Oxford in the 1950's, to find work, that's why many people still had family members down there. And I always thought and referred to Mountain City as being our inbred sister town.
My mother and I went to Mountain City, TN when I was twelve, with her friend from church to visit her parents. After hearing about Mountain City for so many years prior, I honestly thought it was an actual city, about the size of Atlanta. Boy, was I misled. It's about the size of Oxford and it had a Dollar General store there too, just like Oxford and other stores and buildings that looked quite similar, except the town is surrounded by mountains.
I spent my first eighteen years in Oxford and grew up with two brothers and two sisters and their families. I was the baby of the family and my one sister who is the closest to my age is ten years older than I am. I now have stepbrothers and stepsisters too. My stepfather Don died back in 1988. Don had a son, Michael who lost his life in Vietnam. (Michael's website link is on my Favorite Links Page.)
My mother later remarried and I now have another stepfather. Unfortunately throughout time, people in my family found themselves too busy working and moving around. They aren't that close anymore. I was never really close to anybody, nor do I stay in contact as much, except with my one sister.
My oldest sister, Sherry, is a registered nurse in Delaware. My other sister, Cindy, works for Herr's Snack Foods in Pennsylvania. My brother, Steve works for Terumo Medical Corporation in Maryland and my other brother, Jeff is a jewelry maker in Pennsylvania.
"As long as there are Baby Boomers around, I'll never have to worry about growing old, for they refuse to let me grow up."
-Tina Nichols 2000